As a full-service patio cover installation company in Houston, TX, ABC Awning Company is proud to offer a wide range of patio canopies and similar products and services, from patio shades to screen rooms and airplane hangars. Here is a closer look at all of our patio canopy options: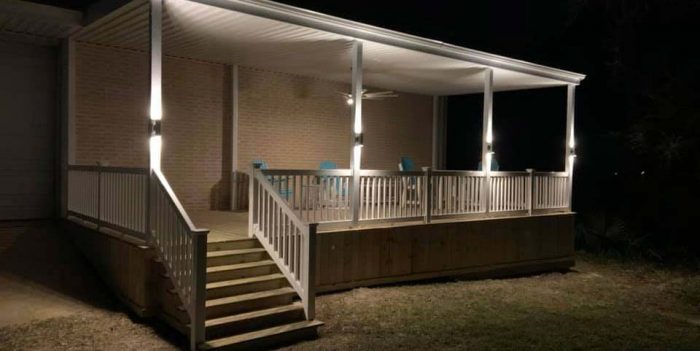 Patio covers:
Whether you are enjoying a peaceful day at home or throwing a big summer bash, our patio covers will keep you and your loved ones safe from sticky sweat and harsh sunburns.
BBQ pit covers:
Enjoy a smoky flavor without having your eyes suffer by investing in a quality BBQ pit cover.
Playground covers:
Your kids will be able to enjoy a safe and comfortable play environment when you have one of our playground covers installed.
Batting cage covers:
When you install an awning over your batting cages, players will be able to hit home runs any time of the day without having to worry about sun getting in their eyes.
Walk covers:
Give your family or customers a pleasant outdoor experience by purchasing a walk cover from ABC Awning Company.
Smoking sheds:
If you prefer a more intense BBQ experience, we will be happy to hook you up with a custom smoking shed for your backyard or restaurant.
Building storage:
Keep your belongings safe and cool with our building storage options.
Car wash shelters:
Keep your car wash looking good and running smoothly with the help of ABC Awning Company.
For the best patio canopy or patio shade options available in Houston, TX, trust ABC Awning Company. If you would like to learn more about our awning products, patio installation services, and prices for patio canopies or carport kits, we invite you to give us a call any time at 713-645-4281 or visit our Contact Us page.