Screen Rooms Vs Sun Rooms – The Differences Between The Two
If you're considering expanding your living space and adding outdoor entertaining areas, there are several factors to consider. A key one is whether to build a screen room or sunroom.
• Aesthetics
A screen room is a simple and inexpensive way to add a protected indoor/outdoor living space to your home. It's also a versatile addition that can be used for a variety of purposes, from entertainment to dining. It can also increase the resale value of your home. When the time comes to sell, a screen room will add square footage that could make your house more desirable for potential buyers. Typically, a screen room features an insulated aluminum composite roof system that sheds water and retains the open feel of the structure. This insulated roof system is available in a wide range of colors and can be clad with shingles, tin, or other roofing materials.
• Space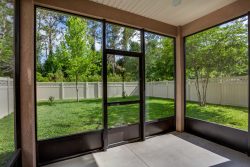 When you want to enjoy the outdoors without the hassle of bugs and rain, a screen room can be an excellent option. They are generally the least expensive type of porch enclosure and can be upgraded to a three-season sunroom at any time with proper planning. While screen rooms can be more economical to maintain, sunrooms are often a better choice for year-round use because they can be heated and cooled with insulation. A sunroom is a fully enclosed space that can increase the value of your home and improve your curb appeal. They also provide plenty of natural light that can be used for indoor activities such as reading and gardening.
• Light
The most significant difference between a screen room and sunroom is the amount of light available. A sunroom has skylights that allow in natural light, so you'll be able to enjoy the outdoors all year long.  With a solar screen, however, the level of light can be controlled with the installation of vertical 4-track windows that can be open from 25% to 50% to 75%. These screens are made from a variety of materials and weaves. The type of mesh you choose will depend on your screening priorities, such as privacy, wind abatement and keeping small insects like no-see-ums out of the area.
• Climate Control
Sun rooms are often a great way to add additional living space to your home. They provide a bright, versatile area for entertaining guests and providing a beautiful view of your yard. But like any room in your house, the sunroom is susceptible to changing weather conditions. This is especially true during the summer when outdoor temperatures are at their highest. Fortunately, there are several options available to keep the climate of your sunroom comfortable year-round. Some of them are more expensive than others but they all provide effective and reliable solutions.
Categorised in: Screen Rooms, Sunrooms