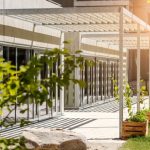 A steel patio offers a durable and versatile outdoor space that can be customized to suit your unique style and preferences. From the materials used to the design and decor elements, every aspect plays a significant role in creating your dream steel patio. In this article, we will explore various materials, styles, and decor ideas that can help you design an outdoor oasis that will be the envy of your neighbors.
Materials for Your Steel Patio:
1. Steel:
The primary material for your patio is, of course, steel. Choose a high-quality steel that is resistant to rust and corrosion, ensuring its longevity and durability. Opt for powder-coated or galvanized steel for added protection and a sleek finish.
2. Roofing:
– Polycarbonate Panels: These panels are lightweight, durable, and offer excellent UV protection. They come in various translucent colors and can be used to create a covered patio that allows natural light to filter through.
– Metal Roofing: Metal roofing provides a long-lasting solution that is resistant to fire, pests, and extreme weather conditions. It comes in a wide array of colors and styles, allowing you to customize the look of your patio.
3. Flooring:
– Concrete: Stamped or stained concrete can create a modern and clean aesthetic for your patio. It is low maintenance, durable, and can be customized with various patterns and colors.
– Composite Decking: If you prefer the look of wood without the maintenance, composite decking is an excellent choice. It is weather-resistant, slip-resistant, and available in different finishes and colors.
– Natural Stone: For an elegant and timeless look, natural stone such as flagstone or travertine can create a stunning patio surface. It is durable, slip-resistant, and adds a touch of luxury to your outdoor space.
Styles for Your Steel Patio:
1. Modern and Minimalistic:
– Clean lines, simple shapes, and neutral color palettes define this style.
– Use sleek steel furniture with minimalist designs and monochromatic cushions to create a contemporary look.
– Incorporate geometric patterns in your flooring or decorative elements for added visual interest.
2. Rustic and Cozy:
– Utilize steel with an aged or distressed finish to create a rustic charm.
– Opt for cozy outdoor furniture with plush cushions and warm earthy tones.
– Add natural elements such as stone accents or a fireplace to create a warm and inviting atmosphere.
3. Mediterranean-Inspired:
– Incorporate decorative wrought iron elements in your steel patio design, such as railings or pergolas.
– Use vibrant colors, mosaic tiles, and ornate furniture to create a Mediterranean feel.
– Add potted plants, bougainvillea, and climbing vines for a lush and tropical ambiance.
Decor Ideas for Your Steel Patio:
1. Outdoor Lighting:
– Install hanging string lights, lanterns, or sconces to create a warm and cozy atmosphere during evening gatherings.
– Incorporate LED strip lights under the roof or along walkways for added illumination and ambiance.
2. Furnishings:
– Choose comfortable and weather-resistant furniture pieces such as loungers, dining sets, and sectional sofas.
– Add colorful throw pillows, cushions, and outdoor rugs to create a cozy and inviting seating area.
– Consider adding a hammock or swing for relaxation and to maximize the use of your patio space.
3. Greenery and Planters:
– Use large planters with tall grasses or potted plants to add a touch of nature and privacy.
– Install vertical gardens or incorporate hanging baskets to make the most of limited space.
– Create a herb garden or add potted fruit trees for a functional and aesthetically pleasing patio.
Conclusion:
Designing your dream steel patio involves carefully selecting materials, choosing a style that reflects your personal taste, and incorporating decor elements that enhance the overall ambiance. By considering the materials, styles, and decor ideas mentioned in this article, you can create a stunning outdoor space that not only adds value to your property but also becomes a haven where you can relax and entertain family and friends. Let your creativity shine through as you transform your steel patio into a personalized escape that you will enjoy for years to come.
Got Questions? Let Us Help!
Since 1968, ABC Awning Company has been the premier carport and patio cover supplier for the city of Houston and the surrounding areas. We are a local family owned and operated business dedicated to providing our clients with high quality workmanship and products. Our experts specialize in the design and construction of custom steel carports and patio covers. We have both residential and commercial customers that we create these durable and strong awnings for. Not only do these coverings provide shade, they also protect your cars and valuables. Contact us today to learn more about what we can do for you!
Categorised in: Patio Installation